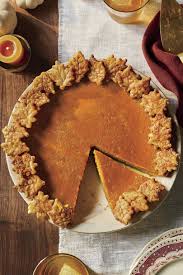 Raw Pumpkin Pie Recipe
Crust
2 cups pecans
1/2 cup soft mejool dates (with pit removed)
Blend the crust ingredients in food processor or heavy duty high powered blender, then evenly distribute in the bottom of a pie plate.
Raw Pumpkin Pie Filling
4 cups pumpkin cubes, skin and seeds removed(a small pie pumpkin)
1 cup soft mejool dates
2 tsp. cinnamon
1 tsp. freshly diced ginger or a little powdered ginger
1 tsp. nutmeg
(OR you can use a pumpkin pie spice blend INSTEAD of cinnamon, ginger & nutmeg)
1 vanilla bean (scraped the inside out and put in, discard the outside)
1/4 cup almond milk to help blend
(optional) 3 tsps soy lecithin to thicken pie (Soy Lecithin is very healthy so I usually put it in but if you don't have it that is okay)
If the pie is not sweet enough for you, you can add a tsp or two of maple syrup or honey or agave. *I usually add more maple syrup.
* Also if it does not have enough vanilla for your taste, you can add a  tsp of vanilla extract.
Place all of the filling ingredients in a blender (I use a Vitamix) and blend on medium speed until you have a puree consistency.
If your blender is not very durable, you many want to add the pumpkin last and a little at a time, (and possibly even cut it into smaller pieces first to avoid burning out your appliance)
You may also have to blend half of it at a time depending on the size and durability of the blender. I have a Vitamix so I can handle it but I also sometimes put bigger pieces in my food processor first.
Pour the filling into the crust and chill in the refrigerator for at least 30 minutes before serving.
*Also, a tip- if you put the pie in the freezer for 20 minutes before serving then it makes it easier to slice.